Page 14 - 2016 Holiday Look Book
P. 14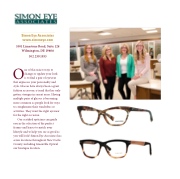 Simon Eye Associates www.simoneye.com
5301 Limestone Road, Suite 128 Wilmington, DE 19808
302.239.1933
One of the easiest ways to change or update your look is to find a pair of eyewear
that expresses your personality and style. Glasses have always been a great fashion accessory, a trend that has only gotten stronger in recent years. Having multiple pairs of glasses is becoming more common as people look for ways to complement their wardrobes or activities. They want the right eyewear for the right occasion.
Our certified opticians can guide you in the selection of the perfect frames and lenses to match your lifestyle and to help you see as good as you will look! Simon Eye Associates has seven locations throughout New Castle County, including Greenville Optical our boutique location.