Page 23 - 2016 Holiday Look Book
P. 23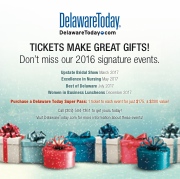 TICKETS MAKE GREAT GIFTS!
Don't miss our 2016 signature events.
Upstate Bridal Show March 2017 Excellence in Nursing May 2017
Best of Delaware July 2017
Women in Business Luncheons December 2017
Purchase a Delaware Today Super Pass: 1 ticket to each event for just $175, a $300 value!
Call (302) 504-1361 to get yours today!
Visit DelawareToday.com for more information about these events!