Page 8 - 2016 Holiday Look Book
P. 8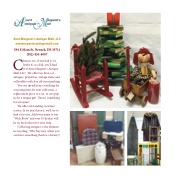 Aunt Margaret's Antique Mall, LLC auntmargaretsantiquemall.com
294 E Main St, Newark, DE 19711 (302) 454-8007
Chances are, if you had it (or broke it) as a kid, you'll find it at Aunt Margaret's Antique
Mall, LLC. We offer two floors of antiques, primitives, vintage items and collectibles with free off-street parking.
You can spend hours searching for a missing item for your collection, a replacement piece to a set, or just pop in for a unique gift. There's something for everyone!
We offer outstanding customer service. If we don't have it, we'll try to find it for you. Add your name to our "Wish Book" and over 35 dealers will be on the lookout for your item.
Collecting antiques is the ultimate in recycling. Why buy new, when you can have something that has a history?