Page 25 - Visit Baltimore - 2018 Meeting and Event Planner
P. 25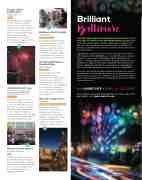 z
Fourth of July Celebration INNER HARBOR
JULY4
Greater Baltimore's biggest Fourth of July celebration returns to the Inner Harbor with live music and celebratory fireworks choreographed to patriotic and contemporary music. Feel especially American in the city where Francis Scott Key penned "The Star-Spangled Banner."
37th Annual Artscape
MOUNT ROYAL AVENUE AND STATION NORTH ARTS AND ENTERTAINMENT DISTRICT
JULY 20-22
America's largest free arts festival is a staple of summer in the city, and features more than 150 fine artists, fashion designers and craftspeople.
It also includes exhibitions, outdoor sculpture, art cars and live music by local and national acts each day and evening.
Baltimore Book Festival
INNER HARBOR
SEPTEMBER 28-30
The Baltimore Book Festival features hundreds of author appearances and book signings, as well as exhibitors and booksellers, non-stop readings on multiple stages, cooking demos by celebrity chefs and live entertainment.
6th Annual Baltimore Reunion Expo
INNER HARBOR
SEPTEMBER
This annual event is the perfect place to find resources, information about hotel packages and tips to make your get-together a resounding success. Highlights include catering tastings, hotel and vendor information, genealogy experts and live entertainment.
Miracle on 34th Street
HAMPDEN
LATE NOVEMBER TO DECEMBER 31
Each year, residents of
row homes on the famous Baltimore block flip on elaborate Christmas light displays, drawing thousands to the North Baltimore neighborhood of Hampden during the holiday season.
Ravens Season Opener
M&T BANK STADIUM
TBD
The Ravens will be on the hunt for the franchise's next Super Bowl championship. Downtown turns purple on game days with free concerts, an appearance by the Marching Ravens, tailgating and more.
Brilliant
Baltimore
FOR THE THIRD YEAR, BALTIMORE IS HOSTING LIGHT CITY, A FESTIVAL OF LIGHT, MUSIC AND INNOVATION. During this free multi-day festival in April, the Inner Harbor shines brighter than any other time of year with more than 20 light art installations, live music, performing arts, children's activities and local food and beverage vendors.
Light City has quickly become one of the city's top annual events, attracting more than 400,000 visitors in 2017. This year's festival spans three weekends, starting April 6-8 with Neighborhood Lights, a community artist-in-residence program with projects in 14 different neighborhoods. Next is Light City, featuring the Inner Harbor's BGE Light Art Walk, from April 14-21; and Labs@Light City, the festival's daytime innovation conference, is April 18-21.
Interactive and family-friendly installations and activities at past festivals have included light-up seesaws, projections that react to the sound of your voice, an oversized house of cards made of light boxes, and musical performances ranging from classical and folk to rock and electronic.
>>>>> LIGHT CITY > APRIL 14 – 21, 2018
FOR UPDATES AND MORE INFORMATION ON 2018'S LIGHT CITY BALTIMORE, VISIT WWW.LIGHTCITY.ORG.