Page 35 - Visit Baltimore - 2018 Meeting and Event Planner
P. 35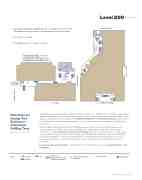 Includes Otterbein and Sharp Street Lobbies, Pratt Street Entrance and Convention Center Executive Offices Suite
Level 200
CONWAY STREET
E
S
S
S
S
Pre-function space
Visit Baltimore information kiosks
S
S S S S
709.5 Sq. Ft. 709.5 Sq. Ft.
480 Sq. Ft. 574 Sq. Ft.
EX
OFFICES
BOARD ROOM
EC
UTIVE
E S
SKYWALK to S Inner Harbor E
V
SHARP
S SSTREET S LOBBY
7,242 Sq. Ft.
S
and Hotels
S
x Box ceS SOffice
New Faces are Joining Visit Baltimore's Convention Staffing Team
Visit Baltimore is committed to building our future workforce – in particular, nurturing young talent and providing Baltimore's students with greater access to jobs, mentorship and training. One of the ways we are doing this is through the Visit Baltimore Education & Training Foundation, which offers scholarships to local students pursuing two- or four-year tourism-related degrees at Baltimore institutions.
Another way is through a new Youth Staffing Initiative, which recruits and trains a group of outgoing Baltimore City youth leaders (aged 16 to 21, largely upper high school and college students) to join Visit Baltimore's Convention Staffing team. Launched in fall 2015, our pilot class of six students completed their initial training at the Mid-Atlantic Nursery Trade Show (MANTS) convention and then continued to gain experience throughout the 2016 convention season by serving as data entry, room monitoring, registration, concierge-desk and information service personnel.
Learn more about this program – and our pilot class of students – by visiting www.baltimore.org/ foundation.
PRATT STREET
SS
Bo Offi
SES
PRATT STREET ENTRANCE
Key E
elevator escalator
S stairs
restrooms – handicap accessible _ _ movable walls public restrooms are restroom
handicap accessible
V
visitor kiosk
www.Baltimore.org 33
E
CHARLES STREET
SHARP STREET
HOWARD STREET
OTTERBEIN LOBBY
6,220 Sq. Ft.