Page 43 - Visit Baltimore - 2018 Meeting and Event Planner
P. 43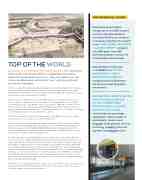 BWI MARSHALL KUDOS...
Received a second-place recognition at the 2017 Airport Council International-North America's Excellence in Airport Concessions Awards. The award in the "BEST RETAIL PROGRAM – LARGE AIRPORT" category sets BWI apart from 180 nominated airports across the United States and Canada.
Ranked #1 by Thrillist.com
in its 2016 list of "TOP 10 SURPRISINGLY GREAT AIRPORTS IN AMERICA," citing proximity to Baltimore, low airfares and top-quality concessions.
SCORED FOUR POINTS ABOVE THE NATIONAL AVERAGE
ON J.D. POWER'S 2017
NORTH AMERICA AIRPORT SATISFACTION STUDY,
which measures passenger satisfaction with an airport's accessibility, check-in and baggage check process, security screening, shopping, terminal facilities and baggage claim.
TOP OF THE WORLD
LOCATED JUST 20 MINUTES FROM DOWNTOWN, Baltimore- Washington International (BWI) Thurgood Marshall Airport delivers a traveler-pleasing, easy-in, easy-out experience that means exceptional convenience for your meeting, event and convention attendees.
With more than 600 daily arrivals and departures, nonstop flights to 79 domestic and 13 international destinations, and easy access by taxi, shuttle, rail or light
rail, BWI is the ultimate in efficiency. (Ride-share providers Uber and Lyft also are authorized to pick up and drop off at BWI.)
But there's more than efficiency to the BWI experience. Travelers have access
to more than 50 dining options at the airport, including Gachi House of Sushi — considered by some to be Baltimore's best sushi bar — Obrycki's A-Bar, Pie Five Pizza and the locally sourced Silver Diner. BWI prides itself on offering "street pricing" at all dining establishments — making an exploration of the airport's dining scene that much easier on your attendees' wallets.
After a meal, waiting travelers are welcome to enjoy BWI's observation gallery, meditation room, art exhibits or children's play area.
Current amenities notwithstanding, improvements are still in the works. Future projects include a planned $8-million makeover for the BWI Marshall rail station, which provides both Amtrak and MARC (Maryland Area Regional Commuter) service to Baltimore's downtown Camden Yards station and Penn Station in the Mount Vernon-Station North neighborhood.
As flight offerings are expanded and visitors spread the word on their positive travel experiences, BWI Marshall has been setting new passenger traffic records every year, with more than 26 million passengers traveling through the airport in 2017. BWI is a major hub for Southwest Airlines, but Delta, American, Spirit and United Airlines and many other carriers also fly through here. Spirit in particular has invested in growth at BWI, and recently added Denver, Colo., and Montego Bay, Jamaica, as non-stop destinations. Icelandic budget carrier WOW air will expand its international service during the busy summer travel season in 2018. The top
five origin and destination airports for BWI travelers are Fort Lauderdale, Orlando, Boston, Atlanta and Las Vegas.
Convenience, on-time performance, flight selection, low-fare options and superior amenities make BWI Marshall Airport the perfect gateway for your attendees, ensuring a great start to your next event.