Page 17 - Delaware County Chamber of Commerce - 2016 Membership Directory
P. 17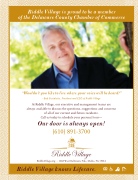 RiddleVillage is proud to be a member
of the Delaware County Chamber of Commerce
"Wouldn't you like to live where your voice will be heard?"
–Bob Bertolette, President and CEO of Riddle Village
At Riddle Village, our executive and management teams are always available to discuss the questions, suggestions and concerns of all of our current and future residents.
Call us today to schedule your personal tour—
Our door is always open!
(610) 891-3700
RiddleVillage.org • 1048 West Baltimore Pike, Media, PA 19063 RiddleVillage knows Lifecare.