Page 26 - Delaware County Chamber of Commerce - 2016 Membership Directory
P. 26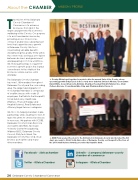 About the CHAMBER
MISSION / PROFILE
The Mission of the Delaware County Chamber of Commerce is to enhance businesses throughout the region and promote the economic wellbeing of the County. Our purpose is to assist member businesses by providing access to resources, contacts and business development tools that support business growth
in Delaware County. We focus
on providing valuable benefits, strengthening the quality of life within the community, serving as your liaison between business and government and preparing our future workforce. We foster partnerships in support of economic growth and in the shared commitment to the vitality of the businesses where we live, work
and play.
The Delaware County Chamber
has over 1,100 members throughout Delaware County and the surrounding area. The largest demographic of
our Chamber Members is composed of small businesses with under 25 employees that fall into the Nonprofit/ Social Advocacy, Healthcare (Wellness, Physical Therapy and Hospital Systems), Real Estate and Attorney/Legal Services categories.
We focus on helping members make partnerships while creating our own to open the doors to connect businesses to resources. We partner with SCORE, Delaware County Human Resource Association (DCHRA), Neumann University Center for Leadership, Widener SBDC, Delaware County Council, Philly Tech Week, The Delaware County Press Club, local business associations and many
other members.
County Officials get together for a photo after the annual State of the County, where upcoming growth and projects in the county were debuted. DA Jack Whelan, Councilman David White, Councilman John McBlain, Chamber President Trish McFarland, Vice Chair Colleen Morrone, Councilman Mike Culp and Chairman Mario Civera, Jr.
Facebook - /delcochamber LinkedIn - /company/delaware-county- chamber-of-commerce
Twitter - @DelcoChamber Instagram - @DelcoChamber
24 DelawareCountyChamberofCommerce
MOD Pizza opened the doors to the first branch in Delaware County and donated the first day's proceeds to CASA Youth Advocates of Delaware County, our Nonprofit of the Year, at the 2016 Small Business Awards, presented by Republic Bank.