Page 30 - Delaware County Chamber of Commerce - 2016 Membership Directory
P. 30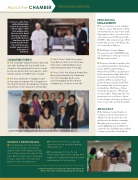 About the CHAMBER
PROGRAMS / SERVICES
In honor of the Pope visiting Philadelphia in 2015, Donna Crilley Farrell, Citizen of the Year and Executive Director of the World Meeting of Families, posed with sponsors from Mercy Health System and the Pope cut-out in the pope- mobile, sponsored by Rolling Green Golf Club.
SIGNATURE EVENTS
The Chamber Signature Events are held annually. Starting with the Small Business Awards in the spring that honor four small businesses and one business person...2016 introduced the SCORE Business Award.
The Annual Dinner, our largest event of the year, recognizes the Company of the Year, Economic Development Award and Citizen of the Year each November.
 The Business Trade Show gives members a chance to showcase themselves with programs and networking throughout the day.
Since 1989, the Athena Award has been presented by the Delaware County Chamber and is now acknowledged at the Athena Leadership Luncheon in the fall.
Past Athena recipients gather to honor Councilwoman Colleen Morrone.
EDUCATION & ENGAGEMENT
To stay relevant in an ever-changing world, we connect with experts to bring our members the most up-to-date trends happening not only to our society, but to our businesses as well. We partner with SCORE to help entrepreneurs get off the ground with an array of workshops, like our social media workshops.
The Delaware County Human Resources Association (DCHRA) keeps our small business owners up to date on HR laws and procedures.
The newest benefits for members that we've added include Delco Networking Groups (DNGs) and the Business Owners Group. DNGs are a platform to build ongoing relationships with fellow business professionals and Chamber members. DNGs are member-based groups that meet regularly. Each DNG has a manager that creates the purpose and guidelines. The Business Owners Group asks the question, "What keeps you up at night?" Using Vegas rules, the group invites you to feel free to discuss an issue facing your business and discover you're not the only one with that hurdle.
ADVOCACY
The Delaware County Chamber of Commerce works closely with elected officials to be sure we can be the voice
and liaison for the business community. Throughout the year, we host several events highlighting local townships, the county, the state and budget passes and the economy, presented by elected officials.
MONTHLY NETWORKING
The Delaware County Chamber of Commerce offers networking opportunities of all shapes and sizes. Our Coffee Connections are for the early birds on their way to work and Business After Hours for those who prefer to meet up after work.
The Women in Business typically meet for lunch to avoid the before/ after work rush.
The Delaware County Young Professionals have events varying from happy hours after work to professional development in the morning.
Our Young Professionals niche has really taken off. #delcoYPs enjoy volunteering during the holidays.