Page 124 - Visit Baltimore - 2018 Meeting and Event Planner
P. 124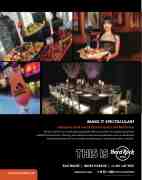 JOIN HARDROCKREWARDS.COM
make it spectacular!
Host your next event at Hard Rock Cafe Baltimore
We are a full service event planning facility with state of the art audiovisual options available for all events. Catering, entertainment and event merchandise can be customized to complement every event. Unique meeting spaces and private rooms available.
BALTIMORE | INNER HARBOR | +1-410-347-7625
HARDROCK.COM #THISISHARDROCK
©2014 Hard Rock International (USA), Inc. All rights reserved.