Page 12 - Delaware County Chamber of Commerce - 2016 Membership Directory
P. 12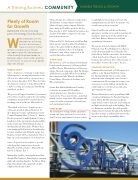 A Thriving Business COMMUNITY
BUSINESS TRENDS & GROWTH
Plenty of Room for Growth
Delaware County has big plans for energy and business
While Delaware County already has a thriving business environment, there is room for further
growth. Local business officials
are able to plan this development while finding the proper balance between area communities and the environment. As a result, even better days are ahead.
ENERGY BOOST
Sunoco Logistics is continuing to make major enhancements to existing infrastructure at the 800-acre site, where refinery operations were shut down in December 2011. Plans for future development continues to make Marcus Hook a hub for storing, processing and distributing natural gas products.
This project will support hundreds of permanent jobs at Sunoco Logistics and in the surrounding community, spur growth for nearby businesses, breathing even more life into Marcus Hook.
"The rebirth of the Sunoco Logistics site not only means growth in Marcus Hook, but for
all of Delaware County," said Delaware County Council Chairman Mario J. Civera, Jr. "Marcus Hook is positioned to make Delaware County a beneficiary of the opportunities already available in the western part of Pennsylvania because of the Marcellus and Utica shales. We know there
is an emerging global interest in the marketplace for clean, abundant and affordable energy, and Delaware County will be a major player. This is a huge step in the revitalization of our waterfront."
Sunoco Logistics has broad plans to provide critical pipeline transportation from the Marcellus and Utica shales to Marcus Hook, known as Mariner East 1.
Mariner East 2 will be a new pipeline from Ohio through West Virginia to Pennsylvania to transport additional natural gas liquids to the Marcus Hook plant. These plans for the energy hub could be completed by the end of 2016.
Monroe Energy also continues to make strides. The Delaware County refinery, owned by Monroe Energy's parent company Delta Air Lines, made an $8 million profit for the last three months of 2015. Adjusted fuel expense also declined $726 million compared to the same period the previous year.
Eddystone Rail Co. has been successful handling mile-long unit trains that deliver North Dakota crude to the region. Eddystone Rail has added employees and played a key role in helping Delaware County achieve a major role in the energy independence industry.
A NEW LOOK
Ellis Preserve is a 218-acre planned development located near the intersection of Newtown Road and West Chester Pike in the heart of Newtown Square. The retail component, called The Shoppes at Ellis Preserve, includes Whole Foods Market, Paxos American Grille, Wawa Food Markets, Corner Bakery, Chesterbrook Academy and a Hilton Garden Inn.
Granite Run Mall in Middletown Township
is slated for an estimated $100-million redevelopment project. Developers want to transform the 58-acre property into a pedestrian- friendly outdoor town center. The complex will consist of retailers, restaurants, residential space and entertainment facilities.
UPPER DARBY
The revitalization of Upper Darby, particularly around 69th Street, has been a boon to jobs in retail. Last year, employment levels were at their
second highest point in the past 25 years. The unemployment rate also fell to 4.8 percent – the second lowest point in seven years.
Mayor Tom Micozzie said the area has been aggressive in reaching out to retail and commercial developers, which has led to the rebirth of the 69th Street Business District as a retail and entertainment destination.
The area has attracted companies like H&M, Puma Lab, Gap, Ross, Burlington Coat Factory and the International House of Pancakes. The Studio Movie Grill also moved into the area about a block from the Tower Theater. Local, small businesses have also been able to thrive because of the number of visitors that come to the area.
UNIVERSITY EXPANSION
Neumann University built a 10,000-square-foot addition to the Thomas Bruder Life Center.
For Neumann Media, there is a radio studio, television studio, editing and control rooms, a communications lab, meeting and storage rooms and a green room. In addition, the facility has
a multi-purpose room that can accommodate approximately 140 people.
Widener University recently opened Harris Hall, a residence hall dedicated to President Emeritus Jim T. Harris, III. This innovative design has single-loaded corridors that assist in providing air and light transfer throughout the building. There is a dining area on the first floor with specially designed water fountains throughout the hallways that allow students to refill reusable water bottles as part of the college's sustainability efforts.